Sally Goodrich came to Paige Elementary School on Monday, June 20 to talk to students about a new school in Afghanistan that she has been raising money to build.
She also came to say thanks.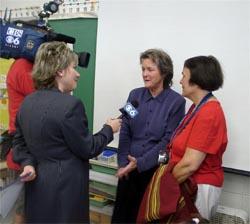 Paige students contributed close to $1,200 to help Goodrich build the school; students and teachers donated close to $800 over the past two months, all of it pocket change deposited into plastic collection containers placed around the school. Several community groups and students from Niskayuna' Iroquois Middle School also made donations to the Paige fund.
"I am so privileged to be here," said Goodrich. "That the students in a school in Schenectady would reach out like this is tremendous."
Goodrich, From Bennington, Vt., has spent months coming up with the $180,000 needed to build the two-story, 20,000-square-foot school. More than 500 children will attend the school.
The Paige donation left a balance of just over $16,000 to finish paying off the school; Goodrich said she plans to loan the dollars to the project, which should be completed in a few months.
Goodrich, who visited Paige with her husband, Don, is building the school in memory of her son Peter, who died in the Sept. 11 terrorist attacks on the World Trade Center. She got the idea for the project from U.S. Marine Maj. Rush Filson, a childhood friend of Peter Goodrich who wrote to the Goodrich's about the lack of proper schools in Afghanistan.
"Guns and bombs don't solve the problem," said Don Goodrich. "This is what makes the difference."
The new school will be for girls aged 6 to 13. The Associated Press, in an April 2 news story, reported that more than 200 girls were being taught in a log room and tent at the mayor's house.
Goodrich showed a number of slides of the house, a two-story structure with misshapen, light brown mud walls and rough, circular windows. Afghan children, many of them wearing colored scarves, sat two and three to a desk' one blackboard is allotted to each class, which can contain 50 or 60 children.
Paige students adored Goodrich, smiling as they swarmed around her as they modeled Afghan clothing and headwear Goodrich brought back from her April visit to the country. She spent a week in April in Afghanistan, overseeing the new school's construction.
Susan Cromer, the school's English as a Second Language teacher, came up with idea for Paige' "Change for Change" fundraiser after reading about Goodrich in the newspaper and watching a WRGB television report on her in April.
The large numbers of Afghan children attending Paige - thirty-three go to the school, the district's largest Afghan population - prompted Cromer to coordinate the project, she said.
"Sally is my hero," said Cromer. "She's an incredibly courageous person."