Creating Dialogue and Building Leadership through Student Exchange
2007-11-14 @ 09:58:30
FOUNDATION'S BELOIT COLLEGE STUDENT NAMED WEISSBERG SCHOLAR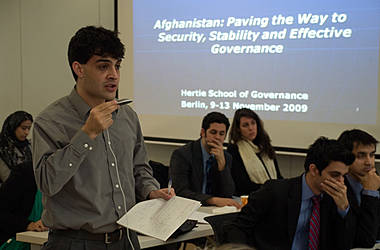 Beloit's Weissberg Scholar at Vesalius University in Brussels
Photo courtesy of Orange European Youth Press
www.orangelog.eu/en/welcome/
This year the Foundation is providing varying levels of support to students at Bates College in Lewiston, MA; Williams College in Williamstown, MA; St. Lawrence University in Canton, NY (funded in large measure by the Davis Foundation); Green Mountain College, Poultney VT and Mt. Holyoke College, Holyoke, MA. Two students graduated from their colleges (Bennington College in Vermont and Beloit College in Wisconsin) last year.
One Foundation student is a Davis scholar at the Taft School in Waterbury, CT. One attends Miss Hall's School in Pittsfield, MA; one is at Emma Willard in Troy, NY; one has entered Stoneleigh Burnham in Greenfield, MA; two are students at the Pine Cobble School, Williamstown, MA; and another is attending Berkshire School in Sheffield, MA. All are on full or partial scholarships.
We are deeply indebted to the colleges, private schools, Wolfeboro Summer Camp and Foundation donors who make this possible.
These students will return to Afghanistan once their academic programs are completed with skills needed by their country as it continues to grapple with increasingly serious challenges.
Two worked on initiatives in AFghanistan last summer.