Bates College
Peter throwing the shotput for Bates.
Picture with permission of Bates College.

Article and Excerpt of Article by Tony Blasi, staff editor and former sports reporter with the Lewiston Sun Journal. Reprinted with permission of the Sun Journal
When I met Peter Goodrich 13 years ago, the Bates College All-American was having a grand time tossing around the 35-pound weight like some major league pitcher throwing a baseball. Life was good as he broke track records and excelled in math and physics in Lewiston.
Goodrich was outgoing and intelligent, but what impressed me most, besides his athletic accomplishments, was his affability and humility. He was easy to like, because he liked people and treated them all with respect. That's why teammates gravitated toward him and voted him track and field captain.
People who knew him recalled the 1989 graduate as curious, dedicated and competitive, but it was his gentleness that made a lasting impression on all of them.
His father, Donald, will miss his "big hugs."
And now, unfortunately, we all are speaking about him in the past tense.
Peter Goodrich was supposed to live a long and fulfilling life because he loved life. Last Tuesday, a group of evil men deprived Goodrich of a promising future and a life with his wife, Rachel.
Goodrich, 33, boarded United Airlines Flight 175 for a business trip to the West Coast. He was products manager for MKS Software of Burlington, Mass. His plane was hijacked that terrible morning by fanatics who steered the plane into one of the towers at the World Trade Center in New York City, killing all the passengers on board.
Like most of America, I am angry, confused and downright sad and apprehensive. I will never understand how terrorists find life so cheap that they can kill on such a large scale.
But neither could Peter Goodrich. He had a place in his big heart for all those he befriended in and outside the field house.
"He really could see no evil," Donald Goodrich said from his home in Vermont. "He expected the same from everybody else."
I received word about Peter's death several days after the twin towers came crumbling down as the entire nation watched in horror. I recalled the name and quickly dug up two stories that I wrote about the six-time NCAA Division III All-American.
Thirteen years ago, Peter Goodrich was 21 years old and stood 6-foot-1, 185 pounds. His massive frame and strength alone were impressive, but his modesty always came shining through.
During the Eastern Collegiate Athletic Conference Division III men's track championship at Bates one year, Goodrich heaved the 35-pound weight an eye-opening distance of 60 feet, 2-3/4 inches. His lob erased the old meet record of 54-8 and broke Bates' 21-year-old record in that event.
The Williamstown, Mass., native ran track to get away from bullies who hassled him in high school. It didn't take him long to excel at cross country at Berkshire Academy, where he caught the eye of the late, great Walter Slovenski, who coached the Bates College track team at the time.
"I wasn't very big, so I was picked on a lot," Goodrich said at the time. "So in high school, I did track to do my own thing. I liked doing things by myself. I hated running, and as a result, to escape running workouts, I would slide over to the throwing events. When I came here (to Bates), I decided to be just a weight man."
And Slovenski realized Goodrich made the right decision.
"He's an amazing all-around athlete," said Slovenski back then. "He has excellent speed, excellent strength and excellent coordination. And that's the magic ingredients that you will find in a good prospect."
Now Peter Goodrich is gone, and it's just not fair to all of us who knew him.
"The runners nicknamed Peter 'Bear' because he was the biggest and most powerful guy on the team, but he was the friendliest," recalled Peter Slovenski, who was an assistant coach at Bates and is now head track coach at Bowdoin. "He was an inspiration to the team.
"Peter was elected team captain because of the tremendous affection and admiration of his teammates had for him. He was a marvelous team leader and teacher. He spent many hours of his practice teaching younger throwers. He would stay late after his own practice was over to coach his teammates."
To this day, Bates men and women's weight throwing events coach Joe Woodhead uses training tapes of Goodrich demonstrating his excellence in throwing events such as the discus and hammer.
"He was impressive," said Woodhead. " I considered him one of my assistant coaches. He would step in and help these kids. He never threw before he got to Bates.
"He was a great kid. His parents were great supporters. They came to all his meets. They came out to wherever he threw in the country."
Goodrich's exploits at track meets gave his loving parents an opportunity to be near him while Peter did "his own thing."
"Athletics is a chance for parents to be involved," said Donald Goodrich. "We loved being around him doing what he liked to do. He was a real competitor. He definitely enjoyed competition."
And despite all that has happened since that terrible Tuesday, Donald Goodrich, a remarkable man who fathered a remarkable son, refuses to give in to anger and support massive retaliation against countries harboring terrorists.
"That accomplishes nothing," said Donald Goodrich. "I don't wish that on anybody else. There were a lot of wonderful people on those flights."
And Peter Goodrich, a Bates All-American and gentleman, was one of them.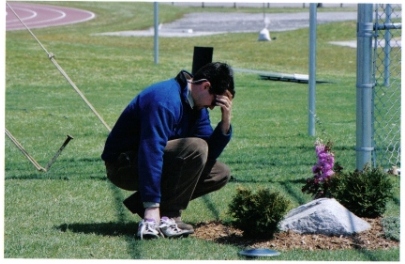 Pete's brother, Fos, at the Bates College Memorial
Just outside the throwing circle at Bates College's new outdoor track facility is an oval patch of landscaped ground containing a hunk of granite with a plaque fastened to the rock. A few shrubs and flowers adorn the small memorial.
The plaque contains an inscription that reads: "May the sun forever shine upon your face." This is Bates' way of paying tribute to Peter M. Goodrich, a five-time All-American track star who was killed when Flight 175 slammed into the World Trade Center on Sept. 11, 2001.
Nearly 200 people, including Goodrich's family, will gather Saturday at a noontime ceremony where Bates will dedicate the plaque in Peter's memory before the NESCAC track championship meet.
Goodrich's widow, Rachel, is expected to announce a scholarship fund in her late husband's name.
The memorial is a fitting tribute to a humble, gentle and brilliant young man who left a huge hole in the hearts of people who loved him most.
What is unique about the memorial is where it was placed inside the sprawling track facility on Russell Street.
"No weight thrower for the rest of Bates history will throw out of that circle without seeing it (memorial)," said Bill Hiss, vice president for external and alumni affairs at the college. "I knew him a bit as dean of admissions. I was certainly aware of him as a scholar athlete.
"A lot of us are feeling pieces of loss and pieces of pride. The service to me feels a little like American history."
According to Hiss, the alumni office invited all former Bates track and field athletes to attend the ceremony. Hiss added that there will be former track athletes from eight decades on hand to remember Goodrich.
Talk about an impressive tribute to a fine human being who took advantage of all life had to offer him.
Tony Blasi is a staff editor for the Lewiston Sun Journal. He can be reached at
tblasi@sunjournal.com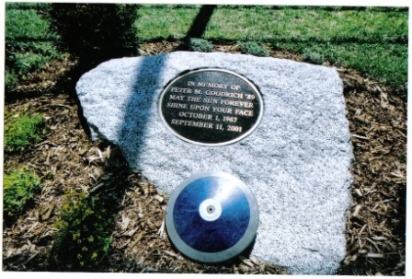 The Bates College Track and Field Memorial