Peter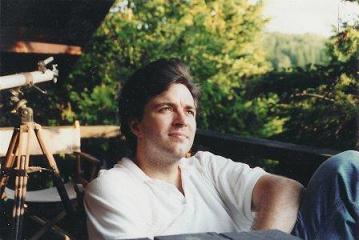 A reading from the Qur'an preceded by remarks from Peter Elvin, close family friend and Rector of St. John's Church, Williamstown, MA during Peter's Vermont Memorial Service
In the early hours of recoiling from the news that Peter Goodrich was on board Flight 175, someone was heard to say, "For Christ's sake, he read the Qur'an!" I saw his copy of the Qur'an on Monday. It is full of markers, where passages crossed his threshold of wondering. Would that our Bibles had as many markers. His Bible does, by the way. It is in tribute to Peter's wide-embracing search for answers, as well as for his profound respect for questions, that our first reading today is from the Qur'an, which we have cause to say Peter did read for Christ's sake, to be a peacemaker in our time.
This is a reading from a portion entitled "The Dinner Table":
In the name of Allah, the Beneficent, the Merciful.
O you who believe! Be upright for Allah, bearers of witness with justice, and let not hatred of a people incite you not to act equitably; act equitably, that is nearer to piety, and be careful of your duty to Allah; surely Allah is aware of what you do. Allah has promised to those who believe and do good deeds that they shall have forgiveness and a mighty reward.
This is the end of the reading.
Messages From the MKS Memorial Web Board
Conf: In Memoriam: Peter Goodrich
From: MKS - Boston
Date: Friday, September 14, 2001
· Friday September 14, 2001 - 10:00 AM: MKS World Wide shared a moment of silence for Peter Goodrich.
· Friday September 14, 2001 - 10:02 AM: MKS Boston shouted out a moment of loudness, or Peter-ness, because "Peter definitely didn't believe in being still and quiet for any longer than this"
· Friday September 14, 2001 - 1:15 PM: The Peter Morgan Goodrich Memorial Scooter Races began. 1st Round, the route was one time around the perimeter of the office. 2nd Round, the route was one time around the maze made up by office cubicles.
Topic: In Memoriam: Peter Goodrich
From: ST
Date: Wednesday, September 12, 2001
Peter bought a beautiful chess board and placed it in the cafeteria. The idea was to make a move whenever you happened to be in there, and saw that your opponent had made a move. You could play a complete game without knowing who your opponent was, except that you could be pretty sure that one of the players was Peter.
After Andrey lost a game to Peter, I gave it a try and lost easily. My second game got underway about three weeks ago, and Peter quickly gained an unshakable advantage. Last week he only made one move a day -- either he was extra busy or the details of my defeat were not of particular interest. The game board is still there in the cafeteria, and it's Peter's turn...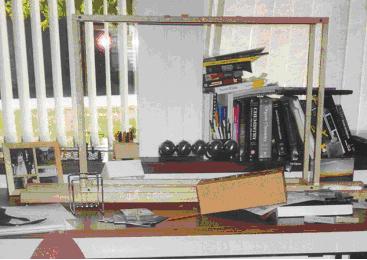 Picture of Peter's Desk
Photo Courtesy of KMS
Topic: Peter's Contraption
Conf: In Memoriam: Peter Goodrich
From: ST
Date: Thursday, September 13, 2001
This photo is of Peter's office in the fall of last year. It shows a little set of pendulum balls from the Museum of Science, which my daughter gave to Peter after she worked here for the summer. It also shows the enormous version which Peter subsequently built. It makes visible Peter's enthusiasm, ambition, curiosity, and ability to put together something that's fun. In the background you can see a wedding photo, two big chemistry textbooks, and a chess set.
Conf: In Memoriam: Peter Goodrich
From: GT
Date: Thursday, September 13, 2001
When I had heard of the possibility of Peter's flight being in trouble, I did as most do and dismissed it to myself as, "No, that wasn't his plane." Today when I got into the office the first thing I did was to go over to Peter's office. Too quiet. I stood in the doorway for some time just looking at everything as he left it. Too quiet. Oh man.... I wasn't prepared for the emotions that hit me. It is so vintage Peter. All kinds of papers and books strewn about on his desk from end to end and onto the floor from instructional tech guides to hobby books, to white papers to little toys and nick knacks some of which he had made as one of his new hobbies (origami) to fossils he perched on his sill, (Peter had a story to tell for each and every one of those fossils), empty coffee cups, the white board covered in ink looking, to the untrained eye, like Einstein's theory of relativity notes, an old Red Sox schedule with wins/losses noted. In the time that I grew to know Peter I realized that this is who he was. He was a high energy, multi-faceted, caring person who took a genuine interest in everything he did and in most things those around him were doing. He did it well and he did it in his own very truly unique style, he made it fun. I have come to realize there were many things I admired about Peter and the way he viewed work, family and life. I hope to better myself through his examples. I wanted to take something from Peter's office to put in mine to serve as memento and inspiration. Maybe tomorrow.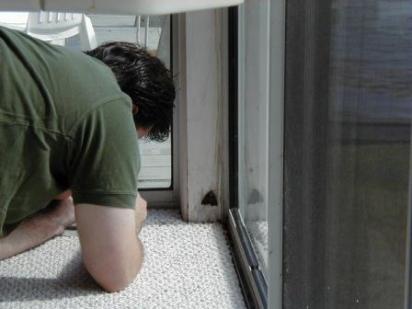 Conf: In Memoriam: Peter Goodrich
From: BS
Date: Wednesday, September 12, 2001
Peter was an extraordinary person by all means. A virtual encyclopedia of information, he was always interested in everything natural. It surprised me that he was interested in insects, too. His love for life was very apparent when one day, in the office, we found a big black ant, which he identified as a queen carpenter ant. He took the ant outside and released it uttering words to the effect "Go on now, and make a nest!". I was quite moved by that. You wouldn't expect a big burly tough guy like Peter to have such a big heart, especially when it comes to insects. But that's who Peter was. Also one of the most cheerful and jovial persons I have ever met all my life, I know that Peter will remain a model human being in my life.
Conf: In Memoriam: Peter Goodrich
From: BW
Date: Thursday, September 13, 2001
In a business were we use the word Integrity frequently, it is too easy to dull the edge of its worth. Peter was a man of great and demonstrable Integrity. He was one of the first people I met in MKS and had previously resigned from Upspring rather than see his subordinates laid off. He was fiercely loyal to his colleagues and hugely supportive of me as a new hire. Peter's enthusiasm, humour and energy were hallmarks of his personality. His willingness to take inconveniently timed phone calls from me in the UK was, too, part of his generosity. Peter had the vision to see the value of the ex-Upspring products and the intellect to communicate that value to both his colleagues and our customers. Peter was a remarkable man. He also hated flying.
Conf: In Memoriam: Peter Goodrich
From: DM
Date: Thursday, September 13, 2001 09:06 AM
I had the privilege of first meeting Peter back in February of this year when we were first considering the Upspring acquisition and Peter simply struck me as one of those rare individuals who makes an immediate impact the second one meets him. Having hired Peter and worked with him every single day since that time, I can say that Peter never failed to start a conversation without some new piece of trivia or a comment about how those great Red Sox were going all the way. One of my most pleasant experiences was attending a Red Sox game with the Boston office and Peter spent most of the game trying to get everyone doing the "wave", and taunting me to join in with him. He also commanded his audience with his product knowledge, enthusiasm and his commitment to succeed at all costs. I can say that in spite of the tragic events that unfolded this week, the world is a better place because of Peter, and he will be greatly missed. My sense of loss is immense, not because I have lost a Product Manager, but that I lost a friend and someone I respected almost more than anyone I have ever met. Bon voyage, my friend. I will never forget you. "Bossman"
Conf: In Memoriam: Peter Goodrich
From: TB
Date: Friday, September 14, 2001
I was stunned by the tragic news about Peter Goodrich, as I'm sure all my MKS colleagues were too. I worked closely with Peter and I spent a lot of time with him during my visit to MKS Boston in June of this year. I came to appreciate his energy, enthusiasm and wit - a truly "larger than life" character. The Boston office will seem empty without him.
Peter brought his incisive mind to bear on anything and everything. When I was in Boston, he was onto Amazon ordering books of great historical philosophers. One day I was talking with Peter in his office and another colleague came in with a solution to a mathematical puzzle Peter had set (something about a robber in a boat, and a cop on a motorcycle). The colleague started to draw his solution on the whiteboard. Peter stopped him: "No! That's not it - you'll know straight away once you've got it!" I had Peter explain the puzzle to me and then I started thinking and drawing on the whiteboard, all sorts of stuff with lines and angles, Peter shaking his head all the time: "Far too complicated! It's so simple, you'll know when you've got the answer!" It would have been entertaining to hear Peter's explanation, but he insisted I went and work it out for myself. Somehow I never came to spend any more time on it. "Never" is a hard word.
Topic: Peter
Conf: In Memoriam: Peter Goodrich
From: MH
Date: Wednesday, September 12, 2001
Whenever I ask someone why they like working at MKS, it never fails that the response is "because of the people here". When I heard the news yesterday and read Phil's email, for some reason I thought of that. Peter was exactly the kind of person that came to mind when I heard that response.
Peter was one of those people that forms a bond with everyone they meet. He was an extremely caring individual. If he didn't pop into say hi to me while he was in Waterloo, he'd call me from Boston to apologize for not getting to see me. Or he'd just call to chat if he hadn't been to Waterloo in a while. Just calling to see how I was doing and if he could do anything for me.
I had the privilege of having dinner with Peter on my last trip to Boston. He was such a character and I'll certainly never forget that night. I'm sure everyone else who was with us will never forget the taste of that Grappa that he was so adamant was the best (for those of you who have never had the privilege, it tastes & smells like old shoes). Peter described it as the muck that's left over at the bottom of the vat after they've smushed grapes for wine... very appetizing, but somehow he didn't have too much trouble getting us to partake. Something about Peter made you trust him & just instinctively share in whatever he was doing.
I almost didn't go to that dinner, briefly thinking of heading back to the hotel instead. I'm sure glad I wasn't silly enough to do that; it was one of the best times I've had in Boston
Topic: Peter
Conf: In Memoriam: Peter Goodrich
From: EP
Date: Thursday, September 13, 2001
I was once working at a site, struggling through routine tasks that I only just recently learned. The manager of the project I was working on would periodically come to talk about how things are going, and once in a while we would stray from the subject and talk about other things. I don't recall how the subject was brought up, but I recall some of the conversation we had:
"Peter? Is that the same Peter that I met down in California doing the demo?"
"Probably …"
"Big guy, really bright, brown hair?"
"Yeah, that's him."
"You know how you meet people in life and every once in a while you meet one of those amazing people … Peter is one of those."
Peter seemed to believe that growing up did not require the abandonment of all things juvenile. There were three scooters at work for a time. In the wee hours of the morning, Steven and I would sometime race through the cubicles and time each other to see who was faster. I raced Peter once, but he insisted that we race in short succession as apposed to the usual way that Steven and I had done it. I supposed I should have known better. He let me go first – out of the good graces of his heart I'm sure. As I came close to rounding the first corner, I chanced a glance behind me. Sure enough, Peter's imposing figure was right behind me and I felt the onset of impending doom. Needless to say, I didn't make the corner and smashed into the wall at full force.
I mentioned it to Steven and evidently he had a similar experience and mentioned "It's hard to keep your focus when you look back and see this massive body barreling down the corridor strait at you." I can't be certain, but I think Peter knew that too.
Sometime I would walk into Peter's office when he was not busy and discuss work, life, just about anything was fair game. I was talking to him about the pros and cons of working in a management role. I was curious. We had a lot in common and I wanted to know how he enjoyed his job. Inside me there is a need to create. To build and then be able point to something and say, "Look. I did that." I thought that Peter probably shared this need, and knowing the basics of a by-and-large administrative job, how he was coping with it. Words burned into me then.
"Yeah, I can't point to a thing anymore and say, 'I built that.' But I found that if I do my job correctly, I really am still a builder. I can build people. I can help them push their knowledge. When someone starts thinking about doing something completely different, I can move them into a project that they might appreciate more. By introducing new types of work to them, I can help their career as a whole … outside of SET."
It occurred to me that he was right. But I don't think that many people can do that. You have to have a lot of qualities to truly lead a group like that. In fact, you probably have to be one of those amazing people.
At some point in a person's life, a sense of true self-respect comes. When we no longer say to ourselves "I wish I were that person" or "I wish I had that person's life." We become content with who we are and accept what we can do and cannot do. At this point we don't strive to be like any one person, we just work on qualities in ourselves that we may perceive in this or that person that we meet. I've reached that point in my life and yet it seems every time I come in contact with Peter, something inside says "I want to be more like that person." Everyone knows what he could do. It's not what he can do that I would like to see in myself. It's something else that is not easily put in words. So I won't try.
My throat tightens up when I recall the wide eyed smiling face and abusively hard smack on the back that always greeted me when I used to come back from a remote job, or when I'd come to visit the office after I had left the company and get the familiar "So you decided to come back to work!" It is my loss. And it's another loss. The loss of potential. There are only a very few amazing people in this world. Amazing people are the ones who do the amazing things. Why he stayed with the company instead of curing cancer or interpreting the human genome, I don't know. I'd like to think that he was there because it was the place where he had the most fun at the time, and because he liked to smile and attempt to dislodge a couple of my vertebrae as he greeted me by name in a booming voice that the neighboring companies would be hard pressed to ignore