Don's Trip to Afghanistan
Friday, July 1st
I left JFK at 23:30, spent Saturday night in Dubai and left Dubai for Kabul Sunday morning.
Sunday, July 3rd
The man sitting next to me on the plane from Dubai to Kabul said: "I am Afghan. I am an Engineer coming from Germany where I have been getting help from Afghans there to translate into Dari technical manuals and textbooks for use in vocational schools in Afghanistan for which I am responsible. Iran is doing translations of these materials using Farsi words and descriptions intended to assert its influence in Afghanistan. This is not good for Afghanistan." He spoke of the Afghanistan he knew growing up before the Soviet invasion – poor, illiterate, agricultural, beautiful and free of systemic violence - lamented the decades of war and external influences that have fractured his country and talked of the coming reduction of the US presence in Afghanistan and the risk of return to civil conflict it portends.
When we got to Kabul we stood together in the Immigration Control line. Just ahead of us was a very big man with military style boots talking with the man next to him. I had seen them talking to each other at the airport in Dubai. He said, "I hate coming back to this hot, dusty place and cannot wait to get out of here." I asked where he was from. He said "northern Virginia." As we spoke I saw Niazi on the other side of Immigration Control. He waived to me and I waived back. The big man asked who I had waived to. I told him he was my contact person in Kabul. He said loud enough for the Afghans around me to here: "Are you sure. You cannot trust anyone in this country." I assured him I could trust Niazi. He said, "Don't be so sure." I told him I was.
After I passed through Immigration Control, Niazi took my passport with my luggage transport tags on it and he and two others, one of whom worked for Arianna Airlines and whom Sal and I had met before at WADAN, helped me with my luggage. Niazi gave me a cell phone with phone numbers for Jean, Amin, Nasib and Kathleen programmed in and led me to the car that took me to Kathleen's.
Saraj, his daughter, Maryam, his wife, Zakkia and Kathleen were there to meet me. They all spoke of their love of Sally and lamented her passing. Saraj said he was not able to say in English what he wanted to say and asked Maryam, who's English is perfect, to translate for him. He said he loved Sally like his own sister, that she was part of his family – part of Afghanistan - and that she would never be forgotten. When I expressed great sadness that she was not with me in the land she loved he said, "This is the life. It ends for us all."
I told him that I had brought Sal's ashes with me and that she wanted them spread in Afghanistan. He said, "We will do it Thursday."
Mati's father, Amin, called from Farah and Mati and Mustafa stopped by to welcome me. Mohib called to say hello from Williamstown.
Jean Kissell called to confirm my meeting Tuesday with the Principal and village elders from Logar.
The Kabul River passes just on the other side of the road that leads to Kathleen's new house and when the wind is just right (I should say, just wrong) the smell of sewage is strong. I was shown my room on the third (top) floor, entrance to which is made through an enclosed space open to the sky.
Noor Agha brought dinner, spaghetti and meatballs, and Kathleen and I talked about Sal and my plans over the coming days. Then to bed.
Monday, July 4th
I spent most of the day with Kathleen talking about her life in Afghanistan, the changing conditions there and about Sally; how they first met in Bennington, their trip (Sal's first) to Afghanistan in April 2005, Sal's subsequent trips to Afghanistan and Kathleen's visit with Sal three weeks before her death. I learned that it was she who first suggested to Sal that the Foundation build a school for girls in memory of Pete.
She filled me in on the events leading up to the termination of her contract with AMOR (American Medical Overseas Relief) to manage the Afshar Hospital in Kabul. It was so typically Afghan. After she had spent six years navigating the mysterious, sometimes treacherous culture of war torn Afghanistan to see completion of the hospital, she was unceremoniously let go with implications of impropriety hanging all about her (and Saraj) with veiled allusion to financial mismanagement and corruption made by a source seeking only the opportunity to do what he falsely condemned from a moral high ground illusion he himself created.
Mati has said he trusts no one in the world but his father. And Mustafa has told me of a saying in Afghanistan about the Devil and a place in Hell where sinners suffer in boiling caldrons, prevented from climbing out by Devil's helpers standing alongside with sticks to keep them in. On an inspection of Hell, the Devil noted that one of the caldrons had no one with a stick threatening the sinners. He chastised his foreman who replied: "Oh, don't worry. Afghans are in that caldron. You don't need anyone there to keep them in. When one tries to get out the others just drag him down."
It is easy for us in our comforts to respond with incredulity and moral indignation to these remarks, but hesitate. Survival and its cousins - fear, greed and power - are harsh masters in a largely lawless land. But then, skepticism and ruthlessness are not the whole story in Afghanistan. Far from it.
Kathleen spoke of deteriorating security throughout the country, particularly in Wardak. She also spoke of the ever widening gap between the rich and the poor and the unsustainable escalation in housing costs – products of the billions of dollars injected into the economy by the US, Iran and other countries. Her small house on a postage stamp lot next to a pockmarked dirt road by a smelly stream has increased in value from around $250,000 to around $400,000 in two years. We speculated about the consequences of the coming troop drawdown on these market conditions, the Afghan economy and its people.
Kathleen took me to Camp Eggars (named after a soldier killed near Kabul in 2004). After going through security, we were met by Robert Engell, a Ministry of Defense Team Lead for Dyncorp. He and his wife live in Holyoke Massachusetts, his wife works at Mt. Holyoke College and his daughter graduated from there last year. He is a consultant to medical facilities operated by the Afghan National Army. We also met with Sadiqa Basiri, founder of
Oruj Learning Center
. She was the first Afghan to attend Mt. Holyoke College and, through Oruj Learning Center, provides education for young girls in remote regions of Afghanistan. She told of the enormous emotional toll leaving her husband of only eight months to study in a strange country with limited English skills had on her with obvious pride in completion of her studies and her contributions to her country, especially its young women.
After we got back to Kathleen's house, Saeed arrived with his two year old daughter. He came to express his condolences. Sal loved him. When I first went to Afghanistan in 2006, I met Saeed at his small carpet store on Chicken Street. Sal bought two rugs then. He is a remarkable Afghan entrepreneur. He said he now has over $1,000,000 in inventory and several warehouse and store locations, though he proudly said he lives on $1,000 per month. He designs his own rugs and has them woven by Afghan women in northern Afghanistan. He reminded me that he still had a rug Sal had purchased from him over a year ago (she did not have room in her luggage to bring it back then) and said he would bring it for me to take back with me.
Mati stopped by to confirm my plans to go to his place after my meeting with the people from Logar Tuesday. He said he wanted me to be videotaped for the documentary he is making about his
Afghan Youth Initiative
projects. Amin called to work out plans for my trip to Farah later in the week.
Saraj appeared after dinner. He had been to Wardak to facilitate a meeting of 300 village elders with the Governor. He said that as soon as he got them in to see the Governor he left.
I went to bed early: Jet lagged, stimulated, hot and exhausted.
Tuesday, July 5th
I woke at 3:00 am and could not go back to sleep. I went to the enclosed open sky space outside my bedroom and looked through the dusty haze ever present in Kabul at the stars and coming dawn. Soon I heard the first Azan (call to prayer) of the morning. As I listened I heard another Azan in the distance and then another. It occurred to me that as the earth spins dawn around the globe successive Azans are sung with an endless progression across the Muslim world.
At 6:00 Noor Agha (Mr. Light) brought hot water and instant coffee, naan and jam. Then Kathleen came and we talked about the foreign forces in Afghanistan and the increasing influence of the Taliban. I mentioned to her John Steinbeck's "The Moon is Down" – his contribution to the war effort during World War II. The book was translated and circulated underground in many languages throughout Western Europe, giving strength to the resistance in countries occupied by the Nazis. I told her I think it should be required reading for all our troops coming to Afghanistan – an account of indigenous opposition with roles reversed - to remind them that they are in lands, cultures and homes sacred to their inhabitants: people who will know things about their surroundings that outsiders can never know and who will have a stubborn resilience born of bonds with their land and their people.
A driver from WADAN picked me up at 10:00 and took me to WADAN's new location in Kabul. Jean met me there and took me into a large conference room where the Logar School principal, her husband and a young man from the village were seated at a long table. Soon, Hajji Katel Khan and the others from Logar arrived. Katel Khan has aged and looked not well. He was using a cane and said he had gotten out of bed to come. Salim, Hajji Malik's son, was there along with five others (elders) from the village, one of whom is a teacher at the girls' school and spoke some English. Habib, from Wadan, translated. Katel Khan spoke of his love for Sally, her great work in Logar and his sadness and the sadness of the people in the villages served by the school at Sal's passing. He asked for a minute of silence to pray for Sally's soul. After this moment of reflection we exchanged remembrances of Sally. I gave my condolences for the passing of Hajji Malik and told them all how much Sally loved him and grieved for him when she learned of his death.
I asked the Principal to tell me about the school. She said that 740 girls now attend the school: it was originally designed for 520 girls. I asked if it had double sessions because of the large number of students. She said, "No." There are now 27 teachers (two of them men). It graduated its first class of 17 students this year. Some of them took the Concord Exam (a national college entrance qualifying exam) and some did well enough to attend Kabul University, but none can go because of cultural and economic constraints. She and others expressed the need for a teachers college for girls in Logar. She said there is one under construction, but its completion is uncertain. Two of the graduated girls will teach at the school next year. I told them that not all the best students in Afghanistan should go to the Medical, Law, and Engineering Faculties at Kabul University – the custom now. I said that the some of the brightest students should become teachers so the children they teach will learn from the best minds in Afghanistan.
The Principal said that the damage (broken windows and falling plaster) done to the school in the truck bombing that took place in the summer of 2009 (killing 25 people, including 13 school children, some from the girls' school) has not yet been repaired and the depression that collects water and breeds misquotes has not been fully addressed. She said that she and the village elders had discussed the current needs of the school and presented an un-prioritized list. We went over it: Furniture (a carpet and couches); Laboratory materials (microscopes and chemicals); Uniforms (600); Playground (field and equipment); Barbed wire (10 rolls); Laptop computers (2); Library books (500) and repairs to broken windows and damaged plaster and toilets.
During the meeting Alam, two British educators (both Pashtun Afghans, one fluent in Poshto) and Asma, a young Pashtun Afghan woman with a Master's degree educated in Pakistan, joined us. They were visiting WADAN to help with the opening of a new school in Jalalabad.
I was told there now is enough electricity at the school to support two computers and some lights. Jean said she might be able to get the barbed wire from the DOD for which WADAN is doing a project and get the computers at low cost. I said I would work with Jean and others to assess the costs and priorities of the projects and get back to them. Katel Khan referred to the girls' school in Logar as a model school for all of Afghanistan. I told them of my admiration for their courage and resolve in keeping the school open and expanding the enrollment to meet the needs of so many young girls in Logar. I gave them the packet of photographs taken at Pine Cobble School with descriptions in Pashto written by Mati's sister, Seema.
At the end of the meeting Katel Khan said he had something he wanted from me. I asked what. He said: "Will you please prepare an album of pictures of Sally and send it to me." I said: "Is one enough." He smiled and said he would like three. I promised to prepare and send them.
Jean had arranged for lunch for all, but the Logar contingent said they needed to get back to Logar and, after parting thanks, left.
I had lunch with Jean, her son Caz, the two British educators, Asma and Nasib (with some others who joined him). I asked the Pashto speakers to look at the design of Sal's headstone to get their opinions on the best Pashto words for "Love" and "Loss." After much discussion all agreed that the words used on the drawing (Mina and Zian) were the best.
After lunch Mati picked me up and took me to his apartment. It is on the third floor of one of several buildings in a gated community with its own Mosque, playground and shops. Mustafa met us there. I told them I needed some Afghan cloths for my trip to Farah and we went shopping on a street with small shops selling clothing, sandals, cosmetics, fresh fruits, etc. As we walked, Mati gave a few Afghani to some beggars and bought a paper from a small boy. When we approached a clothing store where I was to buy salwar kameez and a vest, Mustafa stopped me and went ahead. Mati said: "He is going to establish prices before they discover you are a foreigner, otherwise you will pay three times what you should." After buying the vest and salwar kameez, we went to a sandal shop where I got Afghan sandals. On the way we bought fresh fruits, almonds, peaches and mangos (wonderful) from street venders and went back to Mati's for dinner. After dinner Amin called and Mati (and I) Skyped with his Sister, Seema, and brother, Mohammad, in Williamstown. Mati found a coffee pot in the kitchen and some coffee. I readied them for morning and went to bed.
Wednesday, July 6th
I began adjusting to the time change – I slept until 4:30 – made coffee, blew a fuse leaving the apartment without electricity, showered (very nice), and prepared to spend the day with Mati, Mustafa, Shabana, Farid and a videographer, Mikhail (from the Republic of Georgia), observing his filming for a documentary about Afghan Youth Initiative and its projects. This year it had a successful "Act-Forum." Four out of 30 applicants were selected for in-country scholarships. Afghan Youth Initiative will fund their educations at private colleges in Afghanistan for four years. A community project was also selected. Three female students will open a handicraft center. Afghan Youth Initiative will fund it for four months with the expectation that it will then become self-sustaining.
We left Mati's apartment in a pickup truck and went to Mati's grandfather's house to pick up his uncle – a Member of Parliament from Kunduz. We then headed toward a compound near the Parliament where five like minded Members of Parliament share the cost of space. As we neared the compound we stopped and picked up another Member of Parliament (from Farah). When we did, two police officers got into the back of the pickup and we drove to the compound. We were greeted there by two female Members of Parliament whom Mati interviewed about the important role youth in Afghanistan have in its future and about Afghan Youth Initiative. Mikhail filmed. I, too, was interviewed by Mati about Afghan Youth Initiative and its projects.
We then drove to the Flower Street Café where we met Shabana. She went with us to the Parliament for the purpose of interviewing another Member of Parliament. It turned out that she was sick and we left. We returned to the Flower Street Café and then to Mati's where Shabana was interviewed. I gave another interview there: this time about Sally's School Shura - my meeting with the people from Logar the day before.
After lunch Mustafa came and we picked up Farid. Naeem had gone to Jalalabad with people from WADAN to open the new school there. More interviews followed. I ended up having to do the interview of Mustafa, because every time Mati tried to ask him a question they ended up laughing uncontrollably. I also interviewed Farid about his experiences interning for Afghan Youth Initiative. Mati interviewed himself.
Kathleen called and told me to be sure to be at her house by noon, Thursday. I told Mati and Mustafa that Kathleen had planned that I spend the afternoon and evening with her and some of her friends. Mustafa said he would take me there in the morning.
Late in the afternoon, Mustafa (with Mati and Farid) drove me to Maryam's house for dinner. On the way we drove by a large, beautiful, Shia Mosque. After a phone call, Maryam's brother met us on the main road and guided us over narrow streets with drainage channels down the middle to Maryam's home. We had to walk some distance because the side street leading to her house was under construction. Her brother and I entered through a metal door into a concrete floored corridor that led to curtained doorways: to the left the kitchen and to the right a large carpeted room with toshaks (cushions) around the perimeter and walls and windows adorned with beautiful, sheer, blue curtains. Maryam, her mother and her niece, Hadya greeted me there. Hadya is eight months old. She was given her name (meaning "gift") by Maryam. I was served tea with Saffron while dinner was prepared. We talked at length about Maryam's family, her return to Afghanistan for the summer and some of its challenges, including a marriage proposal made by her oldest uncle and rejected by her mother. I gave her the baby quilts Sandy had given me to deliver along with her I-20 issued by St. Lawrence and her report card from Ms. Halls, which – no surprise – was exceptional. Maryam's seventeen year old cousin (an interpreter for DynCorp) joined us for dinner.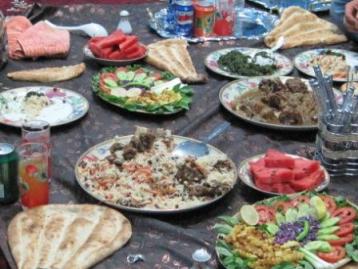 It was sumptuous and presented beautifully. It was prepared by Maryam's sister-in-law (whom I did not meet) and consisted of tender beef with rice and spinach and fried potatoes and fresh vegetables and watermelon and naan and ... I was stuffed. Maryam gave me two Afghan metal "Aladdin Lamps," one of which I said I would give to Sandy. She had purchased them before coming to America on the YES program, but was not allowed to take them on the plane with her then.
At about 10:00, after a call to Mati, he, Mustafa and Farid picked me up. We dropped Farid off at his house and Mustafa drove us to Mati's and then left. Mati and I watched some of the day's video footage that Mikhail had given him. I readied the coffee maker again and went to bed.
Thursday, July 7th
I was up at 5:20, plugged in the coffee maker and blew another fuse. I boiled water on the gas stove in the kitchen and made coffee. After the fuse was replaced, Mati ironed my salwar Kameez. I put them on with my new vest and sandals and we walked to the small market in the compound to get water and an internet card. The old man sitting behind the counter addressed me. I responded: "Salam Alaicum." He seemed to think I was at least a good imitation of an Afghan.
During breakfast Mustafa came. He and Mati argued about the jurisdiction of Provincial Counsels, Shuras and national courts centered in Kabul. Since few outside Kabul are literate and have the resources to go through the court system ending in Kabul, there is a great deal of reliance on local dispute resolution mechanisms. Though not legally binding, the cultural consequences of non-compliance with their outcomes serve, in most cases, as effective enforcement agents.
After breakfast we went on a little tour of Kabul. We drove through Old Kabul with women in burka's in the middle of the street begging, drove by the Stadium where the Taliban imposed its draconian punishments (amputations, stonings, etc.), visited the tomb of Zahir Shah and spent some time at Baghe Babur (the gardens of the Mogul Emperor): I was charged extra because my passport disclosed I was a foreigner and I had a camera. The grounds are beautiful.
Mati and Mustafa got me to Kathleen's by noon. She was at work.
Saraj arrived at about 1:30. He had a black turbin. He put it on my head saying I looked like I was from Kandahar. I asked what I should take with me. He said: "Give me your passport and Sal's ashes. You can take a camera. Nothing else." As I walked out of Kathleen's I wondered what car we would take. All I saw nearby was an old dented car with a broken windshield. Saraj told me to get in it. He got in the driver's seat. He told me the car was his best purchase. He said there are thousands of them like it in Kabul and no one can know which one he is in. He told me he was taking his nephew (who was in the back seat) and a friend (whom we would soon pick up). Saraj had sunglasses on with nothing on his head.
As we passed through Kabul's snarled traffic, Saraj made several stops to buy fruits and vegetables and then suddenly beeped his horn, did an abrupt U-turn and came up behind a stopped car out of which came his nephew's friend. Saraj never tells anyone just where he will be at any designated time.
As soon as we reached the outskirts of Kabul, Saraj began driving the car as fast as it would go. We passed large trucks, some stacked high with bailed goods and cars perched on top. We passed Afghan National Police cars. We passed on the left. We passed on the right. We passed everything we approached. No one could have caught us from behind. As we approached the check point outside Kabul Saraj took off his sun glasses and said to me: "They talk? You don't talk." We passed with no talk. He took me to a place that is simply beautiful. A sort of Oasis on a hill, with fruit trees and flowers and brown, barren mountains all around. Cool breaths of fresh air. A Kuchi tent with grazing goats in the near distance. Bright sun in a clear blue sky. Chickens pecking the stony soil. As the sun began to set I spent an hour or so near a place where Saraj prayed.
Later, as night fell, I asked him how he dealt with the Taliban. He said when they ask, "Are you with us or against us he replies: "I am not against you. I am for Saraj." I asked how he dealt with ISAF and the Americans. He said: "I tell them the same. I am not against you."
As soon as it was fully dark, except for the light of the stars and a half moon, we had a simple dinner and, suddenly, seeming stranger than truth, a large dragonfly flew among us and then as suddenly left into the night.
After dinner a fire was built and we waited for the moon to go down.
As it did, Saraj gave me the urn with Sal's ashes. I kissed them and tossed them into the still night air.
Friday, July 8th
I arrived at Kathleen's at around 9:30.
Kathleen and I talked about my trip with Saraj to spread Sally's ashes and about Sally until noon when Mati and Mustafa came to take me to Farid and Naeem's family for lunch. What a lunch we had, served by Naeem, Farid and their brother, Fahid. By Afghan custom only the men ate while Mati and Mustafa were there. Ahmadshah (Naeem and Farid's father) and I discussed politics, conditions in Afghanistan, the US presence there and the risk of disabling dependency our presence creates. Mati, Naeem and Mustafa said they had to leave, doubtless for the following reason: After they left, Ahmadshah's wife and daughter, Maryam, came in. Maryam is lovely and shy. She hesitated to speak English – afraid, I think, of making mistakes. I insisted. Her English is very good. She should be proud.
Ahmadshah then (around 3:30) took me to Kathleen's showing me some of the sights of Kabul as we went.
I rested.
At 6:30 a driver from WADAN picked me up for dinner there. When I arrived I discovered that tables and chairs were arranged outside for a large number of people, many more than I expected. Ahmadshah and Naeem were there, as were Shahmahmood, Alam, Nasib, Niazi, Jean and Caz, along with the two British educators, a computer developer of an inexpensive hand held computer installed with elementary school educational material in Dari. Jean introduced me to Alex Thier. I recognized him. I met him in Brussels in 2008 at a conference sponsored by the Lichtenstein Institute for Self Determination to which I was invited by a friend of Peter Kellogg. Alex Thier knows David Edwards well and is now head of Afghanistan/Pakistan policy at USAID. Dr. Yamashita, the newly appointed Mission Director for USAID in Afghanistan, was there as well.
I told Jean and Niazi that I had just come from spreading Sal's ashes. After Farooq Wardak, Minister of Education and Saraj's cousin, arrived with some others, Shahmahmood asked everyone to give him their attention. He told the story of Sal's visits to Afghanistan, the building of the school in Logar and her contributions to his country. It took me completely by surprise and left me near tears. When I was asked to say something I barely could. I thanked Shahmahmood for all his help in building the school and helping us navigate Afghan culture. I then thought of Kathleen and her concern about rumors disparaging her and Saraj. My voice breaking with emotion, I told them of my trip with Saraj to spread Sal's ashes, his commitments to the orphans and schools in his village and of Sal's great love and respect for him.
During dinner, Alex Thier asked Farooq Wardak to tell him more about Saraj. Farooq said he is among the strongest, most self confident Afghans he has ever known. He told the story of Saraj breaking the arm of a Northern Alliance representative in Washington and raising the Taliban flag there in 1997, of his later repudiation of the Taliban and attempts by the Taliban to assassinate him. He told of an encounter two years ago in the village in Wardak when Saraj was approached by two Taliban commanders with Kalashnikovs. They made demands and threatened him. Saraj had a pistol in his pocket. He shot and killed them both, then walked away with their weapons. He said Saraj could have had a comfortable life in the United States or in Canada, but that he believes deeply in his country and in the best of traditional Pashtun ways and prefers to live and die where his ancestors have.
I asked Farooq if he knew how it was that the girls' school in Logar was able to stay open after the bombing two years ago and the presence of the Taliban in the villages served by the school. He said that he had not told the story before, but said after the bombing he called the Taliban Minister of Education for the district and asked to meet with him – assuring him his safety. Farooq said that he made the same five points when they met, he makes with other Taliban Ministers of Education when he argues for keeping girls' schools open. He told him the school teaches about 1) Islam, 2) Afghanistan 3) the students – who each is, 4) duties, and 5) rights. He argued there is nothing wrong with any of those things (adding that the country cannot long survive if its future generations are uneducated) and the school should stay open. He said that he had recently met with the Taliban Minister of Education for the country and negotiated the opening of 140 schools in Kandahar using the same arguments.
Alex Thier asked him about Pakistan. Farooq said there are three issues that cannot be resolved without help from the United States: 1) The Kunar River (it flows from Pakistan into Afghanistan and back into Pakistan), 2) the Duran Line and 3) Pashtunkhwa. He also asked Farooq about the coming withdrawal of US troops. He said he favors the troop withdrawal, but said that the economic impact of the withdrawal has to be offset by replacement resources for Afghanistan's infrastructure. Some percentage of every dollar spent ($1,000,000 per soldier per year) is spent on goods and services in Afghanistan. He said that un-replaced withdrawal of those dollars and failure to resolve issues with Pakistan will doom Afghanistan to the "bad days" of the past.
After thanks and goodbyes a driver from WADAN took me to Mati's. I went to bed exhausted.
Saturday, July 9th
I woke early (4:30), boiled water on the kitchen gas stove and made coffee – no blown fuse today. After a long shower, I took this picture out my bedroom window. Some of the mountains that surround Kabul, obscured by the ever present smog and dust in the air, are in the distance over the Masque. The cluster of shops I went to with Mati before my trip to Wardak is outside the picture to the right and the edge of a fenced-in play ground can be seen at the lower left. Women and children congregate there in the evening and men exercise there in the morning.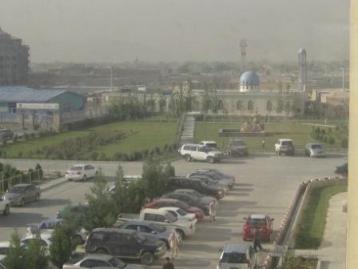 At breakfast, Mati asked if I was taking my camera with me to Farah. I said "Yes." He asked me to be sure to delete all photographs of him and his family before I left. I did.
Mustafa came and he, Mati and I went shopping for some sheets to take to Farah. At one shop I picked up from a pile of them an Afghan magazine called "People Magazine." Mati and Mustafa joked that I could bring a law suit against the publisher for copyright infringement. My response: "How do I collect, if I win?" We went back to Mati's, picked up Nasrat, Mati's cousin (son of his mother's sister), and headed to the USAID terminal at the airport for our trip to Farah. Nasrat works for USAID in Farah. Javed, the director of the terminal, introduced himself to me and told me that he had just been on the phone with Governor Amin and assured me that if I needed anything I was to find him and he would provide.
We boarded the plane a little before 9:00. The pilot and co-pilot were Australian. The co-pilot did a passenger count (eight) as we were about to leave and mentioned the anticipated flight time (2 ½ hours) to Farah. One of the passengers (an American) then anxiously said: "Farah? I am going to Mazar." As he was getting off another passenger hurried on (making the count right) and we flew off. There were some Afghan National Army troops and Afghan National Police on board with us. We flew southwest over Wardak and then west over a mountainous desert landscape with no sign of vegetation for scores of miles at a stretch. Occasionally a sliver of green could be seen descending from mid-way down a mountain to near its base with occasional small buildings nearby. It was otherwise desolate with little evidence of roads of any kind – none paved.
We arrived at the USAID airbase in Farah early (a little before noon). It was 110° F and dry. It had not rained in months. We were greeted by Marsha, an attractive young African American working for USAID. Amin soon arrived and we drove to his home in a large white armored SUV surrounded by his security force. I was taken to an air conditioned room with a huge armoire nearly full of cloths stretching along the entire wall to the right, heavily draped windows on the left, an over large bed with a wooden head board in the middle and a television near a small couch and some chairs around a small table on the left near the entrance. There was a large bathroom on the right with wash basin, bath tub with shower and a toilet, the toilet bowl float device of which I promptly broke and much less promptly fixed. I later learned I was staying in Amin's room.
We had lunch with the Deputy Police Chief and the Mayor of Farah City, and with the head of the Afghan Intelligence Service for Farah Province. Amin told me the Province has a population of about 500,000, 100,000 of whom live in Farah City. After lunch, Amin worked while I watched television: CNN in English and sports channels, almost all broadcasting or talking about cricket. I rested in the cool of the Governor's room (the only air conditioned place in the building).
As evening approached I went outside and sat with Amin and his friends. They included high ranking members of the Afghan Intelligence Service, Afghan National Army, Afghan National Police and the head of the Security Coordination Group. It is responsible for coordinating the activities of the various security agencies in the Province: the Italians, the Americans, the Afghan National Army, the Afghan National Police, the International Security Assistance Force (ISAF), etc. An officer came and spoke to them in Pashto and I heard talk of some difficulty in the north and some planned intervention. Mostly I just listened to Pashto and watched body language. It was obvious these men enjoyed each other's company and mixed their stories and humor with the business of governing.
Dinner was served in the same small room where I had lunch. In the middle of the room was a round table with a large round rotating marble platter in the middle on which food was placed. I turned the platter and helped myself to rice, chicken, naan and fruit. An Afghan Army General (from Kunar), the Afghan National Police Chief (from Baghlan) and the Chief Justice of the Supreme Court in Farah (from Nangarhar) ate with us. Amin told me they serve away from their home provinces by design to avoid the risks of saying "No" to members of their home communities and the risks of the appearance of favoritism if they say "Yes." It turned out that the Chief of Police had served in Logar and knew Hajji Malik and Hajji Katel Khan and knew of the Foundation's girl's school there. He told Amin to tell me that Hajji Malik and Katel Khan were good people.
After dinner, Amin and I skyped with his family in Williamstown. He left his air conditioned bedroom at around 10:30 and I got into his big bed, pulled a light blanket over me and slept.
Sunday, July 10th
___________________________________________________________
Just as I finished this account, I received an email from Masha Hamilton. She is in Kabul. I learned from Kathleen last week as I was writing my descriptions of my trip to and from Wardak with Saraj that he had been in a horrible automobile accident near Mazar and was terribly injured. Saraj has died. As Masha said in her email, he was larger than life and it is a great loss. I am heartbroken and were Sal alive she would be crushed with grief. But as Saraj said to me, "This is the life." And if you read "Riders to the Sea," you will hear Maurya's last words as she prays over the body of the last of her six boys to die at sea. "No man at all can be living for ever, and we must be satisfied."

Posting this now (August 6, 2011) is hard.
___________________________________________________________
I was up early and showered. At 5:30 I was brought hot water. Using some writing paper and ground coffee (a gift to Amin from a previous guest), I made coffee in a large cup.
Soon after September 11, 2001 I bought a book of short stories in a used book store and read in it
Riders to the Sea
by John Synge, an Irish poet who wrote early in the last century. The play is about a mother's love and the loss of her six boys to the sea. It conveys best how I feel having loved and lost Pete and Sal. As the sun rose I went outside into the gardens planted in long beds cut into the concrete that surrounds Amin's house. I thought of Pete and Sal and re-read "Riders to the Sea" on my e-reader. Amin joined me and we talked. I told him I had just read "Riders to the Sea" and summarized it for him. He said all mothers have a unique love for their children and told me this story.
A young man was in love and asked the girl of his dreams to marry him. She said she did not love him and refused. He continued to love the girl and asked her again to marry him. She refused. Consumed with love, he approached her again. This time she said she would marry him on one condition: that he bring her his mother's heart. The young man went to his home. He killed his mother and cut out her heart. He put it on a platter and was carrying it to the girl when he struck his toe on a stone and fell – his mother's heart sliding to the ground. When he lifted the heart back onto the platter, it spoke to him in his mother's voice. She said: "Son. Are you alright? Did you hurt yourself when you fell?"
I thought of the extremes in this story - its stark and deadly contours - and of how hard, perhaps impossible, it is for those of us who come from such a different - cushioned - life to understand it.
We had breakfast with Nasrat: Halwal, eggs, nann and fruit. Amin said he would show me around Farah City. His armored car was waiting for us. The head of security in a bullet proof vest – he reminded me of Chuck Norris – opened the door for us at the steps leading from the house. He got in the front passenger seat with his weapon and the driver drove us through the steel gates of the razor wire topped, walled compound. We waited as six young men, armed with machine guns, got into a pickup truck in the next space: It too surrounded by high walls with razor wire on top. Three of these men got in front and three in the bed of the truck. Another armored SUV followed behind us with additional armed security guards.
We followed the pickup truck out the gate of the second enclosed space, turned left and weaved our way around concrete barriers placed alternately from left to right just outside the compound. As we entered the public streets the guard stationed at the front of the bed of the truck pointed and ordered those approaching to give us a wide birth. They mostly did. As we traveled through the City, Amin pointed out locations where suicide bombings had occurred.
We first went to the Judicial Center. We were met by the Chief Justice. He showed us the courthouse with small rooms where military trials are held and the new court house where criminal trials take place. The court room there is large with a balcony where spectators can observe the trials. We met with the Attorney General and the Chief Prosecutor (he has 30 assistant prosecutors) and some of his staff. We talked about the challenges facing them as they try their best to do justice. Amin said that the judges get good salaries but that the police do not ($70 a month or about 1/10th the judges salaries). I told them of police in our country who are paid about ½ what judges are paid and we talked about the inherent risk of corruption posed by such underpaid police and its effect on the judicial system.
We visited the Provincial Counsel and met with some of the representatives, one a woman. They were elected by the people in their districts and serve as ombudsmen/women for them and often mediate disputes among them. We went to the headquarters of the OCCP, an emergency response center that coordinates the efforts of the Afghan National Army, Afghan National Police, National Directorate of Security, and the International Security Assistance Forces. There were large maps of Afghanistan on the walls and I heard more references to trouble in the north of Farah Province and security forces sent there.
Amin introduced me to members of the Peace Council in Farah. He praised them for accepting reduced pay to do the dangerous job of meeting and negotiating with the Taliban. I was led past a cluster of desks and through a curtain into a long room with a long table in the middle where these meetings take place.
We drove to an old, bomb damaged, building. Amin's security personnel spread out (as they had done in all the other locations) and we inspected three huge generators. The engineer started one of them (very loud) and showed us the control panels that monitor distribution of electricity to the people of Farah.
From there we went to Amin's office. After his security men inspected the area, we walked to the back entrance. He showed me the wall over which, two years ago, suicide bombers were climbing when they were confronted and blew themselves up leaving their body parts near the entrance.
I spent two hours or so in Amin's office watching him work, addressing men with problems and written petitions for his signature. As they were allowed in by Amin's head of security, I again listened to the Pashto and watched the body language. It struck me that Amin often returned the written petitions unsigned, but always after long conversations usually ending with smiles and sometimes even laughter. After this we left and inspected the partially completed four-story building which will become Amin's new office space, perhaps by the end of the year. From the top Amin pointed out landmarks in the sprawling city of Farah.
We (including Nasrat) had a late lunch in Amin's bedroom. We talked about Islam (which means "surrender" in Arabic) and its misuse in attempts to justify killings. I learned that 31 people had been kidnapped in the north and that four of them had been killed. I listened to Amin give phone interviews in Dari and Pashto to Voice of America and later watched television broadcasts of them. Amin told me of his work with the elders in the village where the kidnaps occurred and the assignment of a large military force to the area that help produced the release of the 29 surviving hostages.
As evening approached, Amin skyped with his family and I went outside and watched as a long table was being prepared for a meal that Amin said would be attended by many Afghan "line ministers" and State Department and ISAF personnel. Near this table, 70 or so chairs were being placed in a large circle. Amin came and visited with some Afghan National Army and Police. At around 8:00 more people arrived and were seated in the chairs arranged in a circle. Amin addressed them and told them of Sally's work in Afghanistan and with Afghan students in the US, of her death and of my trip to spread her ashes.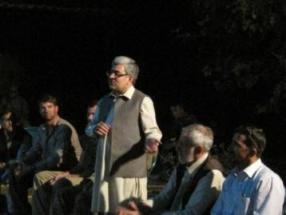 During dinner I talked with a very bright State Department linguist, Mark. He went to Georgetown and said he would help one of the Afghan students supported by the Foundation and studying in the US go to graduate school there. I also talked with an Army officer from Turners Falls, Massachusetts who had recently arrived in Farah. The Chief Justice was there along with many others I had met earlier.
It brought a long day to a close. I went to the governor's air-conditioned bedroom, got in his bed and slept.
Monday, July 11th
I was up early, as usual, and when hot water was brought at 5:30 I made coffee as the day before. Amin came at 6:15. We had breakfast and talked about Sally then and, later, in the gardens outside Amin's house.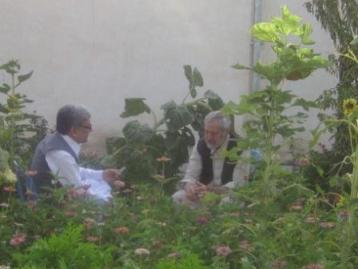 Amin said that after last night's dinner "a million Afghans will know about Sally." He talked of his wife's request, when Mati was in 10th grade, that he study abroad and Amin's decision to say that it was "possible." He said he did not want to be too encouraging because he wanted Mati to continue to study hard. He spoke of a trip he later took with Sally to Jalalabad. They were told there were Taliban in the area. Sally told him she was not afraid, but did not want to die before Mati graduated from college. We both struggle to keep back tears as we remembered and talked about things Sally said and did.
At around 9:30 we went again to Amin's office. We were met there by a young woman member of the Farah Provincial Counsel. She and Amin talked and laughed. Soon, two men arrived with paper work that Amin and the Provincial Counsel woman read and signed. Amin was handed a small plastic shopping bag. He opened it disclosing 20 or so bundles of Afghanis (5 bundles, each containing 100 bills with 1,000 Afghani denominations and the rest, each with 100 bills with 500 Afghani denominations). Then, thirty or so Afghan men and young boys entered, one on crutches others limping. Amin explained that they came to receive compensation for their injuries and the deaths of their loved ones in suicide attacks and other incidents of war violence. Amin, the Provincial Counsel Woman and I handed the bundles to the men (or their sons): The bundles with 500 Afghani denominations (about $1,000) for the injured and the bundles with 1,000 Afghani denominations (about $2,000) for those who lost a family member. This was all videotaped for later broadcast on television.
After this a man led into the office a young girl (perhaps 9 years old) who was squinting and appeared unable to see well where she was going. He talked in Pashto with Amin. Amin then got on the phone with the General, whom I had met the night before, and explained that the girl had problems with her eyes and made arrangements for her to be seen that morning by a doctor at the military hospital in Farah.
Amin was given a report and, after reading it, told me of the arrest of the man responsible for the kidnapping in the north of the province. He said he knew him to be a very bad man. During the arrest the police found 198 kilos of opium, guns, etc. Amin made several phone calls. He said that he was contacting the people who would be responsible for his detention and prosecution to be sure they knew that the Governor expected the man to be fully prosecuted for his conduct and not allowed to go free.
The Minister of Education (a good friend of Amin's) and another man arrived. They talked and laughed as we awaited the arrival of a United Nations delegation. They came late and stayed only a short time. After more waiting, Amin received an expected letter, signed it and we left for lunch at his home.
I packed and Marsha (USAID) and Mark (the State Department linguist) joined us for the trip to the airport. Amin told them of the hostage release and the arrest of the main perpetrator. He received a call reporting that the young girl with the eye problem had been seen, was thought to be suffering from Albinism and would receive more tests and care. As I was about to leave, I received a warm embrace from Amin.
The plane back to Kabul (by way of Helmand) was small with only four passengers aboard. We stopped at Camp Bastion, the British military base in the empty desert of Helmand, expecting to pick up two more passengers. We were not allowed to leave the plane and the plane was not allowed to get closer than about 200 yards from the nearest building. The two expected passengers were "no shows" and we left for Kabul, arriving there at around 6:30. Mati met me and took me to his place.
Soon Mustafa arrived and we (including Mati) went to Mustafa's house for dinner. We were greeted there by Mustafa's mother, father and sister (Shabana) in a lovely garden, with grass grown from seeds Mustafa brought from America. There was a peach tree, a pear tree and an arbor with grapes. I had another great meal with Kabuli rice, chicken, beef, spinach, squash, yogurt, ginger ale, peaches, mangoes …: more food than any five humans could eat. Mustafa's father is the head of the Loghman Peace Jurga and we talked about the changing conditions in Afghanistan and its future. Shabana, very pleased, told of her new job with the Afghan National Solidarity Programme: an initiative by the government of Afghanistan to develop local democratically-elected institutions which will identify, plan for and manage reconstruction projects in villages throughout Afghanistan.
At around 10:30, Mati took me back to his place: tired and full.
Tuesday, July 12th
I was up early and made my coffee with water boiled in the kitchen. As planned, Mustafa arrived at a little after 5:00 and he, Mati and I headed for Maryam's to retrieve the duffle bag I had left there the previous Wednesday: I needed it to carry the rug that Sally had previously bought from Saeed which he had left at Kathleen's. After a phone call, Maryam and her brother met us on the main street and we said goodbyes. From there we went to Lake Qargha, a popular recreation destination just outside Kabul. It is impounded by a large dam, with restaurants and souvenir vendors. We took pictures.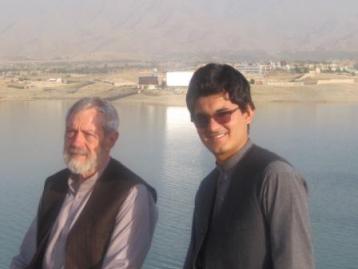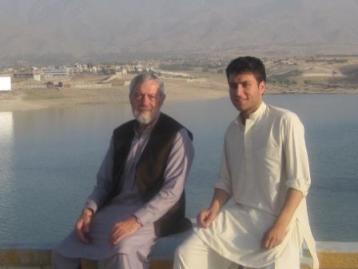 We then went to Kathleen's. Mati and Mustafa left me to spend some time with Kathleen and pack for my trip home.
Ahmadshah Hazrati called. We had been attempting to communicate for several days with help from his sister, Soraya, at Mt. Holyoke. He and his family live on the outskirts of Kabul and they do not have access to the internet or a car. He said that he would be in school (computer technical training) in Kabul until 11:00 and that he and his mother, Shafiqa, could meet me at Kathleen's at around 11:30. He later called to say they could not make it because of work commitments, so we did not get to meet.
Kathleen and I spent the rest of the morning talking about Sal and her final days.
Ahmadshah Ahmed (Naeem and Farid's father) called from WADAN and said he would like to see me again before I left. We planned to meet at WADAN (the new location where WADAN's financial officers work) in the early afternoon and while there I planned to check on the wire transfer I had sent for the Afghan Youth Initiative.
At around 1:00, Kathleen got a call saying that Ahmed Wali Karzai, President Karzai's half brother, had been murdered in his home in Kandahar. We talked about the consequences for President Karzai and how he might respond if blame were cast on the Taliban and how it would affect events in Afghanistan. Then Mati and Mustafa returned to pick me up. We went looking for the new WADAN location (where its financial offices now are) to meet with Ahmadshah Ahmed. We got lost and had to abandon the search.
Mati and Mustafa were hungry (as was I). They suggested Chapli Kabobs. On our way to buy them, we encountered a small herd of goats walking along the side of the road with cars everywhere around them in a busy traffic circle. We parked in front of a shop. Mati's driver went in to get the Chapli Kabobs. Ahead of us were two vendors with wooden carts laden with fruit: Bananas and mangos. A well dressed man approached one of them. Mustafa recognized him as a famous Afghan singer. Two donkeys passed by: a young boy riding one, the other being chased by another young boy who finally caught up to it and leapt on from behind. Mati's driver arrived with the Chapli Kabobs and we returned to Mati's apartment to eat them. They were delicious.
Mati told me at lunch that his father's friend, Amir Khan Yar, had planned to have me to his house for dinner that night, not realizing my flight out of Kabul for Dubai was scheduled to leave at 6:00. He said that Amir would drive me to the airport. Amir arrived at about 3:00 and presented me with a beautiful rug. I was just able to fit it in the duffle bag with the rug Saeed had left for me.
Amir is the Chairman of the Budget & Finance Committee of the Afghanistan National Assembly. He, his driver, a security guard, Mati, and I got into his armored car, with another armored car with security personnel behind, and headed for the Kabul Airport. When we were a few hundred yards from the entrance to the airport, the three lanes of traffic we were in began to jamb. Amir told his driver to do a U-Turn and cross over to the other lanes of traffic going the opposite direction. As we entered the traffic, now going the wrong way, a police officer tried to stop us. After Amir spoke to him, he let us continue weaving our way through the oncoming traffic toward the entrance road to the airport. As we did, I saw President Karzai's limousine, with many surrounding security vehicles, enter the airport road. How Amir's driver did it is hard for me to say, but we ended up at the entrance to the airport road, first in line. After a long wait and several conversations between Amir and the soldier in the tank guarding the entrance, we were allowed to enter the road to the airport – the first car in.
Amir used his card (one of which he gave to me), his cell phone and direct conversations with airport police to get us close to the terminal. He got me a luggage carrier and gave instructions to a porter to guide me to the entrance to the terminal and I said goodbye.
After I got my boarding pass and got through a security check, I had to go through a final process. I was asked by an official behind a small desk for my passport and registration card. I handed him my passport and boarding pass and told him I did not have a registration card. Kathleen had told me when I first arrived it was not necessary for me to register with the police, because of my short stay in the country. The official said: "This is a problem." I told him that I had only been in the country a few days and did not realize I needed to register. I am not sure he understood what I said, but whether he did or did not, he said: "Big problem." I again tried to explain. He shook his head, reached for a stamp and said: "Very big problem. I cancel." I reached into my travel bag and pulled out Amir's card. I handed it to him and said I had been Amir's guest and that he had driven me to the airport. He handed me my passport and boarding pass and motioned me to go on through.
I left Kabul at about 6:45 on a Safi Airlines flight for Dubai and arrived home the following day.