Activities Elsewhere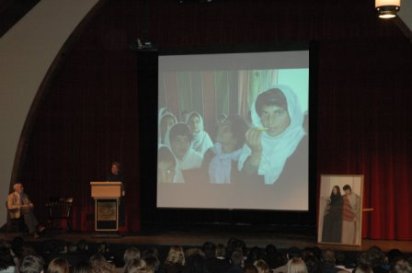 Presentation
Photo by Michael Mah
SCHOOL AND OTHER ACTIVITIES
To contact the foundation about these events, please see Donations.
September 2010
Don and Sally were interviewed by Dick Gordon for American Public Media's The Story about their continuing involvement in Afghanistan. The interview was aired September 10th.
June 2010
Sally was the commencement speaker at Miss Hall's School, Pittsfield, MA on Sunday, June 6th, during the School's 112th Commencement. One of the Foundation's students is currently a senior at Miss Hall's. Later that week, Don and Sally participated in a book discussion for members of the Williams College class of 1960.
May 2010The Dragonfly Celebration
On May 1st 2010 friends and supporters of the Foundation, together with some of the Afghan exchange students who are the recipients of that support, gathered at the Bennington Center for the Arts to celebrate five years of work educating Afghan children in Afghanistan and the US. Access the link below for an account of the event by the
Rutland Herald
.
April 2010
Don and Sally Goodrich will attend Lenox Memorial Middle and High School's second annual film festival run by the Students Against Violent Engagements (SAVE). Axis of Good will be shown at 7:30 PM on Friday, April 9, 2010 at the school which is located on 197 East Street, Lenox, MA.
March 2010
Sally Goodrich and three Foundation exchange students presented to Dover-Sherborn Regional High School students, in Dover, MA during their annual Seminar Day on March 11, 2010.
January 2010
Don and Sally Goodrich and two of its Afghan exchange students spoke at the Stoneleigh Burnham School, Greenfield, MA to students, staff and the general public on Thursday, January 21 at 7:00 p.m. in Geissler Gallery. The public lecture was sponsored by the School's Miriam Emerson Peters Speaker Series in Global Awareness.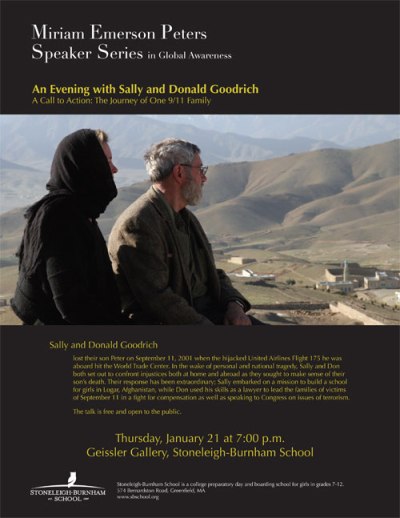 December 2009
The Goodriches will speak to the Bennington Rotary International Club on Dec 11. The monthly noon meeting will occur at Hunters Restaurant on Harwood Hill, Bennington, VT.
November 2009
On November 11th Don and Sally Goodrich discussed the status of their school, their Afghan exchange students, other Afghan projects and answered questions about the changing landscape in Afghanistan at the monthly Bennington Lions Club meeting, Bennington, VT.
The Norfolk Public Library
, Norfolk, CT
Monday, November 2 at 7:00 pm
Axis of Good (USA, work in progress)
During the 9/11 terrorist strike, the Goodriches lost their son Peter. Casting for ways to rebuild their lives and honor their son's memory, they mobilized their community to construct a girls' school in rural Afghanistan. The Goodriches and several of their Afghan exchange students were on hand to discuss the film.
October 2009
Film Columbia Festival
October 24, 2009 at 3:00 PM
Documentary Film: AXIS OF GOOD
Sally and Donald Goodrich's son was killed by the second plane to hit the World Trade Center. From Bennington, Vermont, she and her husband traveled to Afghanistan, where they built a school for 500 girls just south of Kabul. 60 min. Q&A after screening with Sally Goodrich.
Don and Sally and Afghan exchange students presented at the Zonta International District 1 Conference at Jiminy Peak, Hancock, MA on Sunday, October 25, 2009.
September 2009
On September 11th the Goodriches and two of the Foundation's Taft School students were interviewed by Charles Deitz, Berkshire Bureau Chief for WAMC, Northeast Public Radio. Don and Sally will also participated in a Bennington, VT Memorial Service for victims of the attack.
July 2009
Sally Goodrich gave the commencemnt address for Bennington College's Master of Arts in Teaching a Second Language Program on July 4th in Bennington, VT.
May 2009
Don Goodrich received the 2009 Massachusetts Defense Lawyer of the Year award by the Massachusetts Defense Lawyers Association on May 8, 2009 in Boston, MA.
On Saturday May 16th, Sally Goodrich was awarded an honorary Doctorate of Humanities from Massachusetts College of Liberal Arts.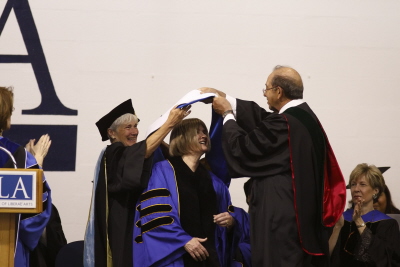 Sally Goodrich Receiving Honorary Degree
Photo courtesy of Massachusetts College of Liberal Arts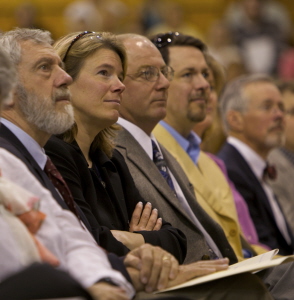 Members of the Goodrich and Donavan Families
Photo courtesy of Massachusetts College of Liberal Arts
Film Festival to Screen Documentary on Goodriches
iBerkshires.com
GREAT BARRINGTON, Mass. — A documentary about the Goodrich family's efforts in building peaceful pursuits in Afghanistan after the loss of their son in the 2001 terrorist attacks will be shown as a work-in-progress at this year's Berkshire International Film Festival.
A 45-minute section of "Axis of Good: A Story From 9/11" by producer and director Rick Derby was screened on Sunday, May 17, at 4 p.m. at the Triplex Cinema. This was the first time the film festival has screened a work in progress.
Documentary about Foundation at Berkshire International Film Festival
April 2009
On April 27th, Jill Vickers, a former Peace Corps Volunteer in Afghanistan and documentary film producer, showed her work, "Once in Afghanistan" and answered questions about the project at Images Cinema in Williamstown, MA. The proceeds of the sale of the DVD were donated to the Foundation. In turn, the Foundation will donate the proceeds to WADAN for earthquake relief to its employees who lost family members and homes.
This newly-released, feature-length documentary tells the story of one Peace Corps group's extraordinary experience in Afghanistan before the Soviet occupation. The women moved village-to-village vaccinating against smallpox with their Afghan counterparts. They share vivid memories, embarrassing moments, and life lessons, which, woven in with their photos and film footage from the 60's, help build a bridge of understanding.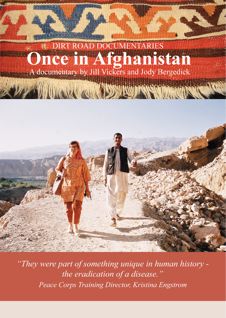 To order a a DVD, link to
"Once in Afghanistan" by Dirt Road Documentaries
Sally Armstrong, Canadian humnanitarian, author, documentary film producer, and journalist lectured at the Irvington Presbyterian Church on April 14th in Irvington, NY. The Goodriches joined others in listening to this remarkable woman discuss the status of women in Afghanistan.
March 2009
Don and Sally traveled to Middlebury College to listen to a presentation by Sarah Chayes and then to the Brandon Inn, Brandon, VT to be with Ted Achilles for SOLA's US debut.
February 2009
Don Goodrich met with President Obama together with other 9/11 family members and families of victims of the Cole bombing about the closure of Guantanamo Bay.
January 2009
Berkshire School, Sheffield, MA, dedicated the funds from its recent talent show to defray the medical expenses of a Goodrich Foundation exchange student who graduated from the school last year. See
Berkshire School Talent Show
December 2008
The Bates College interfaith community and its Goodrich Foundation Afghan student raised funds for families in Laghman Province whose sons were killed this summer as they traveled to Iran to find work.
Sally led the Advent Reflection Day on December 6, 2008 at the Sisters of St. Joseph, Springfield, MA.
November 2008
Sally and four of the Foundation's Afghan students, home for Thanksgiving break, were invited to Hoosic Falls Central School's sixth grade class to discuss Afghanistan and address issues of concern to teachers and students.
September 2008
On September 11, 2008 Sally and Don appeared with Steve and Liz Alderman, who founded the Peter Alderman Foundation, on The Leonard Lopate Show, WNYC Public Radio.
Vermont Public Radio aired an analysis by Dr. Jennifer Fleuri, Profesor at Dartmouth, Julie Petersen from Afghan Women Judges Training, Jonathon Hoffman of Direct Aid International and Shabana Basij Rasikch, Middlebury College student, on the impact of large and small humanitarian efforts by Vermonters in Afghanistan. Don Goodrich introduced the September 10, 2008 segment.
On September 29, 2008 the Goodriches traveled to Christ the King in Worcester to address a support group for grieving parishioners.
July 2008
Don and Sally Goodrich spoke to faculty, staff and students at TC3 Tompkin Cortland Community College in Dryden, NY on July 24th and 25th.
June 2008
Don Goodrich spoke about the Foundation's work at the World Jurist Association's 2008 Jerusalem Conference which focused on "The Pursuit of Peace through the Rule of Law at Times of Violence." Don was one of two panel participants who addressed the topic of Creating a Culture of Peace in the Face of Violence.
May 2008
Sally Goodrich delivered the commencement address at the University of Maine at Farmington, Farmington, Maine.
April 2008
Peter Goodrich was inducted into the Auburn Lewiston, ME, Sports Hall of Fame during its 25th Anniversary Banquet. Former Bates College Coach Joe Woodhead delivered the tribute to Pete's athletic accomplishment while at Bates. Al Harvey, former Bates Coach, Don and Sally Goodrich were present for the induction.
This month The Schenectady County Library 1 Book 1 County program purchased 16 sheep and 3 cows; shipped many boxes of items of school supplies, clothing, and hygiene kits, and knit/crocheted items from nursing home residents. The library will be having one of the Afghan dolls from www.kabuldolls.org and a kite available for a drawing at its concluding Festival with the proceeds going towards the Foundation. The staff at the Glenville Branch Library packed and paid for shipping for some of their patron's items for our project - which was wonderful of them to do so!
March 2008
On March 8, 2008 one of Emma Willard's two Afghan students participated in a conference on poverty at Sisters of St. Joseph in Holyoke, MA.
The Lyndon Institute and Lyndon Town School were hosts to an American Councils' student and Sally Goodrich who participated in the first Foreign Language Week lecture series on March 13th. The American Councils' student grew u[ during the reign of the Taliban in Bamyan, a provincial capital north and west of the capital of Kabul, the Afghan capital. He was born shortly after the ten-year occupation by the former Soviet Union and grew up during the country's civil war. Goodrich and the American Councils student was invited to the schools by teachers Adrienne and Douglas D'Olimpio and Chris Manges. All three attended Bates College in Maine with Peter Goodrich. They are also developing a Lyndon Institute campaign to raise funds for a public library in Bamyan.
Williams College Professor and Afghan scholar, Dave Edwards, and Sally and Don Goodrich participated in the 2008 Schenectady County Public Library's One County One Book program. The Foundation has been chosen to be the Service Learning component.
On March 15, 2008, 10:00 am, McChesney Room, Central Library Documentary Filmmaker, Professor Edwards showed his film Kabul Transit followed by a discussion. Visit the film web site at
Kabul Transit
. Sally Goodrich, of the Peter M. Goodrich Foundation, was on hand to discuss the community service project. For more information see
Schenectady County Public Library Service Learning Project
January 2008
On January 29, 2008, The Schenectady League of Women Voters and Our Voices Together conducted "A Safer, More Compassionate World Forum". David Edwards, Don and Sally Goodrich participated as did an American Councils' Afghan exchange student and American Councils' Vermont Coordinator Kara Lozier. The event took place in the McChesney Room at the downtown public library. Ruth Bonn of the Schenectady League of Women Voters was in charge of arrangements.
Don Goodrich was the 2007 Massachusetts Bar Association Community Service Award Recipient at the Berkshire Bar Association annual winter Dinner Dance at the Cranwell Resort in Lenox, MA on January 12, 2008.
November 2007
The Liechtenstein Institute on Self-Determination convened the conference, "State, Security and Economy in Afghanistan: Current Challenges, Possible Solutions," 16-18 November 2007 in Brussels, Belgium. This colloquium was part of LISD's research project on Afghanistan and the region, and the eighth in a series of LISD-sponsored conferences focusing on Afghanistan since October 2001. It was funded in part by a grant from the Carnegie Corporation of New York. Don Goodrich attended.
On November 15, 2007 at the North Adams Public Schools Annual Service-Learning Conference "Making Connections: Service Learning as the Catalyst", Sally conducted the session "Connections Across the Globe--Catching Up With Sally Goodrich."
October 2007
On October 14,2007 at the First Congregational Church in Williamstown, MA, Don and Sally Goodrich and five of the Foundation's exchange students joined with other local organizations funded by the church to greet and thank parishioners.
August 2007
Don and Sally Goodrich and Berkshire School's Afghan exchange student aired a documentary on the construction of the Foundation's school and addressed other issues relating to the work of the Foundation and Families of September 11th. The event took place on August 8 and was hosted by the Green Mountain Institute of Lifelong Learning in Manchester, Vermont
July 2007
At the request of Will Hunter, the Goodriches and the Foundation's Berkshire School Afghan student addressed the Perkinsville and Weathersfield, VT Congregational Churches on July 22nd.
April 2007
Don and Sally and Mt. Greylock Regional High School's Afghan school discussed the work of the Foundation at the April 9th meeting of Zonta International in Lenox, MA
March 2007
Don Goodrich authored an article on "Terrorism Risk Reduction and Loss Mitigation" in the March 2007 edition of For The Defense, a magazine for defense, insurance and corporate counsel.
Don and Sally Goodrich and the Foundation's Berkshire School student traveled to George Washington University's Homeland Security Policy Institute for a roundtable discussion of the current state of affairs in Afghanistan and the implications for Afghanistan and U.S. policymakers.
Sally Goodrich and three Afghan exchange students addressed the ETA Chapter of Delta Kappa Gamma in Bennington, VT on March 14th.
On March 21st and 22nd, Sally Goodrich and Mt. Greylock Regional High School's Afghan exchange student traveled to the University of Maine at Farmington to present the work of the Foundation, attend classes and the opening of an exhibit of photographs from the Williams College Afghan Media Project at UMF's Art Gallery. The events were sponsored by the UMF Diversity Committee and the Gold Leaf Institute. UMF is completing a comprehensive study of Afghanistan.
February 2007
On February 2nd The Berkshire Institute for Lifetime Learning, Great Adventures Series, featured "One Family's Journey from 9/11 to Afghanistan" at the Lenox Library in Lenox, MA
Don and Sally Goodrich and Berkshire's School Afghan student discussed the work of the Foundation.
The Nantucket Atheneum's One Book One Island Kickoff Celebration with Prof. David Edwards took place on Saturday, February 10, 2007 at
The Coffin School. Professor Edwards showed his film, "Kabul Transit' and responded to questions on Afghan history and politics. A short documentary on the work of the Peter M. Goodrich Memorial Foundation followed.
January 2007
On January 5, 2007 at the Congregational Church in Kittery, Maine, Don and Sally Goodrich showed a brief documentary on the Foundation's work and answered questions after a First Friday Dinner.
Don and Sally Goodrich were awarded the Martin Luther King Peacemaker Award by the Northern Berkshire Coalition on the anniversary of Dr. King's birthday in North Adams, MA.
On January 19, 2007 the Haggarty School in Cambridge, MA made a generous donation to the Peter M. Goodrich Memorial Foundation during their annual Peace Prize Assembly. The school recently completed a Service Learning Project that was linked to an annual examination of a country in conflict. This year the school focused on Afghanistan.
2007 Haggarty School Peace Prize Assembly
Jennifer Fluri, Assistant Professor at Dartmouth College, Hanover, NH organized a conference "Building Paths of Understanding and Collaboration Across Borders" for New England organizations that serve Afghanistan. The Goodriches, their Afghans students, WADAN and other notable projects, designed to support the reconstruction of Afghanistan, presented their work.
December 2006
A Service Learning activity occurred in December at the Brayton Elementary School in North Adams, MA. Half of the proceeds from the second annual Hliday Gift Shop were given to the Foundation to support its work.
On December 18th Sally Goodrich and the Foundation's Afghan student at Mt. Greylock Regional High School conducted a Question and Answer session for students at the Haggarty School in Cambridge, MA. The students completed a unit of study on Afghanistan. The Haggarty School undertakes an examination of a country in conflict each year. It also awards an annual Peace Prize to a Cambridge resident as a culminating activity to this Service Learning Project.
On December 11, Berkshire School's first Afghan student addressed the faculty and student body during an all school convocation. This student achieved High Honors at the end of his first semester at the school. He is a recipient of a generous scholarship from the school.
November 2006
On November 14th David B Edwards, Ph.D., Taft alumnus, Williams College Anthropology Professor, Afghan scholar and Producer/Director of the documentary film 'Kabul Transit' provided commentary on his film and the current state of affairs in Afghanistan to the student body of The Taft School in Waterbury, CT.
The North Adams Public Schools' 8th Annual Service Learning Conference, "Nourishing the Civic Spirit" was held on November 16, 2006 at the Massachusetts College of Liberal Arts in North Adams, MA. The conference provided regional networking opportunities, Service Learning project ideas and inspiration for youth leadership. Workshops were facilitated by educators and community partners. This annual event promotes elements of high quality service learning for student engagement and has grown in numbers for nearly a decade.
October 2006
On October 4th, Sally Goodrich joined David B. Edwards, Ph.D., Williams College Anthropology Professor and Afghan scholar, at the Emma Willard School in Troy, NY for a day of discussions following a showing of Professor Edwards' film "Kabul Transit".
To hear Professor Edwards' remarks about his film and other issues relating to Afghanisan, please use the link to the Emma Willard school below:
Professor David B. Edwards' Remarks to Emma Willard
The Goodriches traveled to Johnson, VT to present "Learning Democracy, Afghanistan & Vermont" on October 7 with the Foundation's exchange students. The event took place at the Bentley Hall Auditorium at Johnson State College and included a showing of the film "Kabul Transit," followed by panel discussion and questions. This event was presented by Creating Peace Through Culture and sponsored by Ryan Books. The following day they were interviewed by the Voice of America for a broadcast to Afghanistan.
Sally Goodrich addressed Pittsfield High School students in Pittsfield, MA. She shared her observations of Afhan tribal customs and Islam.
On Sunday October 22, the Williamstown and North Adams Confraternity of Christian Doctrine classes invited Sally and Don Goodrich and two Afghan exchange students to discuss the work of the Foundation. Don summarized his involvment with Families of September 11th.
Sally Goodrich was the 2006 recipient of the the North Berkshire Business and Professional Women Woman of Achievement Award at a dinner at the Williams Inn, Williamstown, MA on Wednesday, October 25.
September
Executive Director of WADAN, Mohammad Nasib, was named the first Distinguished International Alumnus of Slippery Rock University. WADAN serves as the Foundation's primary agent in Afghanistan. The Goodriches and Berkshire School's new Afghan student attended the September 9th event as did the Afghan exchange student who attends Slippery Rock.
Don Goodrich testified at the United States hearings of the International Commission of Jurists (ICJ) Panel on Terrorism, Counter-terrorism and Human Rights on September 8 in Washington, D.C. For more information about ICJ and the testimony given by Don and others at the ICJ hearings in Washington click here:
ICJ Testimony
Sally Goodrich was interviewed by Tokyo TV, WRGB TV, The Bennington Banner, The Berkshire Eagle, the Vermont Bureau of Associated Press and wrote a brief piece for Vermont Public Radio to commemorate the fifth anniversary of the 9/11 attacks.
August
Both Afghan students arrived in advance of the beginning of school at Berkshire School and Slippery Rock University.
JulyREBUILDING STUDENT EXCHANGEBerkshire School, Sheffield, MA
Berkshire School, Sheffield, MA accepted its first Afghan student as a member of the Class of 2008. The school provided a one third scholarship, located a donor for another third of the tuition, and received a gift from the Class of 2006 toward the remaining third. The father of the student and the foundation are responsible for the remaining expenses. Don and Sally Goodrich will serve as host family for the student when not at Berkshire. The foundation is grateful to Ted Achilles, Country Director of the Afghanistan for American Councils for International Education, the non-profit organization that manages the Youth Exchange and Study Program for screening the candidate recommended for this extended secondary school exchange.
To link to Berkshire School, click on the name of the school below:
Berkshire School
Slippery Rock University
The foundation is assisting a second Afghan exchange student entering Slippery Rock University as a freshman. Slippery Rock University of Pennsylvania (also known as The Rock or SRU) is a public, doctoral-level university, and a member of the Pennsylvania State System of Higher Education. Slippery Rock has provided a generous scholarship to this student as well as a work study opportunity to offset tuition expenses. While the student's family is also contributing to his expenses, additional support was needed.
To link to Slippery Lock, see below:
Slippery Rock University
Both students will return to Afghanistan at the completion of their studies. The foundation is committed to rebuilding capable leadership for the country.
Don Goodrich attended discussions on Terrorism Risk Insurance at the Treasury Department
Don Goodrich traveled to Washington for a closed door hearing on Terrorism Risk Insurance at the Treasury Department.
JuneDon Goodrich Offered Testimony at Congressional Hearing
Don Goodrich testifed at a hearing in June on 9/11 Commission Recommendations: Balancing Civil Liberties and Security for the House Subcommittee on National Security, Emerging Threats, and International Relations, Committee on Government Reform.
He traveled to Washington, D.C. by invitation of Representative Chris Shays, Republican from CT, who supported the initial legislation to enact the findings of the 9/11 Commission.
DON'S WRITTEN TESTIMONY
MayDon Goodrich Presented at the World Jurist Association Conference on The Impact of Terrorism
Don Goodrich attended the World Jurist Association and participated on a pannel discusing "Impact of Terrorism on Social Order and Government Decision Making." The title of his paper was "Confronting Terrorism." The conference took place in Edinburgh, Scotland on May 22 to 24.
Sullivan Elementary School Service-Learning Read-a-thon, North Adams, MA
Three fourth grade students at Sullivan Elementary School in North Adams, MA embarked on an ambitious service-learning project to collect donated books for distribution to the student body prior to a read-a-thon.
Benito Middle School Multi-Cultural Fair, Tampa, FL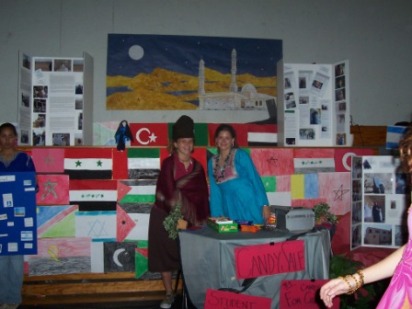 Photo courtesy of Katherine Flint,
The Student Council of the Benito Middle School in Tampa, FL established an informational booth on Central Asia at the school's Multi-cultural fair on May 5th. Proceeds from the event benefited the work of the foundation.
For details of the event use link below:
Benito Middle School Press Release
AprilBerkshire School Benefit
On April 6, Berkshire School, Sheffield, MA featured the documentary film "Kabul Transit: A Work in Progress" by David Edwards, Williams College Anthropology Professor and Williams graduate Greg Whitmore.
Full Frame Documentary Film Festival, Durham, NC Premiere of Kabul Transit
The premiere of "Kabul Transit" took place at the Full Frame Film Festival in Durham, NC on Saturday, April 8th, 2006.
Students for Social Justice, Williams College Benefit
On April 11th at 7:30 PM, Wege Auditorium, Williams College Students for Social Justice sponsored a Williamstown screening of "Kabul Transit".
Our Voices Together Gift Store
The Foundation and its projects was featured in Our Voices Together's Gift Store. For more information see
Our Voices Together
MarchMount Anthony Union High School Presentation, Bennington, VT
On Thursday, March 2nd, Sally Goodrich presented a slide show of the foundation's past work and detailed future projects in Afghanistan to Mount Anthony Union High School students in Bennington, VT.
St. John's Church Lenten Series Discussion, Williamstown, MA
Sally participated in a luncheon Lenten Series at St. John's Church, Williamstown, MA on Sunday, March 5th.
ESL Parent Night at Paige Elementary School, Schenectady, NY
Paige Elementary School held an Asia Night for parents with presenters from several Central Asian countries. Sallly Goodrich discussed the outcome of the foundation's efforts that Paige students supported in the sping of 2005. For more about Asia Night, use the link below:
Guest with a Quest: Sally Goodrich
For more about Paige Elementary Change for Change, use link below:
Paige Elementary School Change for Change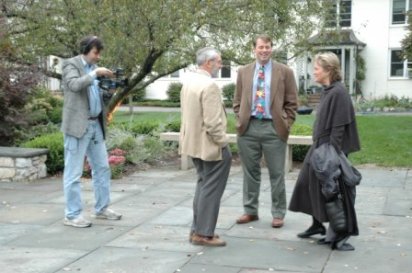 Rick Derby, Don Goodrich, Bill Clough and Sally Goodrich at Berkshire School in September 2005
Photo by Michael Mah