Initiatives in Afghanistan
2007-03-29 @ 13:37:34
Thanks to the generosity of its donors, the Peter M. Goodrich Memorial Foundation is able to support reconstruction primarily in the field of education in Afghanistan.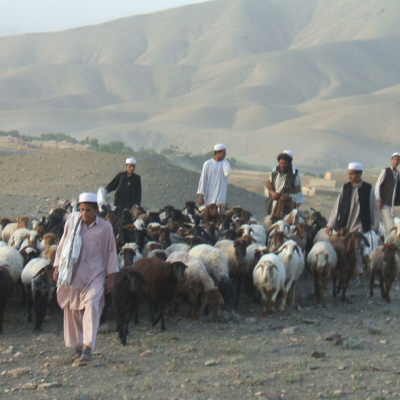 Wardak Orphans with a New Flock of Sheep
Photo courtesy of Kathleen Rafiq
There have been a number of projects to support an orphange housing fifty-five children in a village in Wardak. The Foundation purchased arable land elsewhere to cultivate products for sale and for a food source for the orphanage. It provided a herd of sheep and cows to serve as an independent source of revenue. Last year it replaced a deep water well.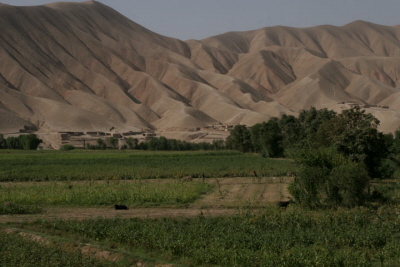 Arable Land for Orphans
Photo courtesy of Kathleen Rafiq
The Foundation is indebted to its partner NGO, WADAN, for support in its Logar and Wardak projects. To learn more about WADAN, please use the link:
Welfare Association for Development of Afghanistan
The Foundation is working with a former American Councils YES exchange student who is attending Green Mountain College in Vermont and the Shuhada Organization, an indigenous non-governmental and non-profit organization committed to reconstruction and development, as it seeks to build a school library or community based library in Bamyan. See
Shuhada Organization
for more information about this impressive organization.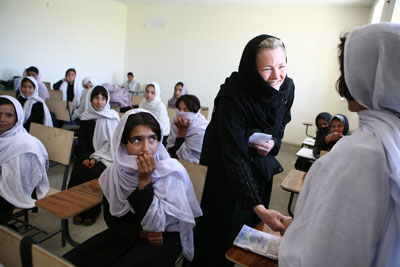 Sally in Logar in April 2007
Photo courtesy of the Boston Globe Magazine
In Logar, thanks to individual donations and support from charitable organizations, the Foundation extended water into the school it constructed in 2006 and conveyed to the government of AF. It added inside bathrooms and a septic system in 2008. Previously, it provided an annual stipend for teachers' salaries and purchased much needed school supplies. Last year it built a concrete walkway and filled a depression which was a breeding ground for mosquitoes carrying malaria.